Posted on July 24, 2023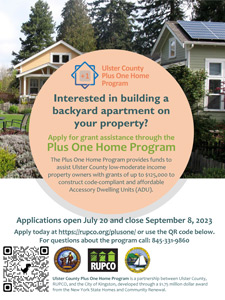 Interested in building a backyard apartment on your property? Apply for grant assistance through the Plus One Home Program.
The Plus One Home Program provides funds to assist Ulster County low-moderate income property owners with grants of up to $125,000 to construct code-compliant and affordable Accessory Dwelling Units (ADU).
Applications open July 20 and close September 8, 2023
Apply today at https://rupco.org/plusone/
For questions about the program call: 845-331-9860
Ulster County Plus One Home Program is a partnership between Ulster County, RUPCO, and the City of Kingston, developed through a $1.75 million dollar award from the New York State Homes and Community Renewal.
Download Flyer (pdf)