Posted on April 7, 2022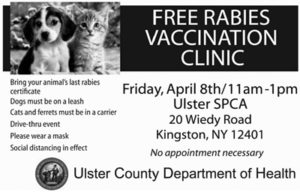 Looking to get your pets protected and vaccinated against rabies?
Head over to Ulster County SPCA this Friday, April 8th for the FREE Rabies Vaccination Clinic!
Time: 11 am -1 pm only
Location: Ulster County SPCA, 20 Wiedy Road, Kingston, NY
No appointment is necessary!
The clinic is available to all Ulster County residents, and the quantity of vaccine is limited and available only while supplies last. No additional pet wellness services are available during this clinic.
Dogs must come on a leash.
Cats and ferrets must come in a proper carrier, WITHOUT EXCEPTION.
Bring any previous rabies vaccination paperwork, if possible.
Pet owners will remain in their cars, masked, throughout the clinic.
For questions, call (845) 331-5377 Ext. 216